General Information

---
If you are interested in taking Violin lessons, the following list of supplies/materials will be required. You may purchase the items at the locations listed under Rental Information.

Shoulder Rest sized to fit the violin (different types & varieties available)

Pascale Method Book & DVD with Sticker Packet (Preschool students only)

Suzuki for Violin book & CD, Vol. 1 (Age 6+)

Other books/materials may be recommended individually for students:
I Can Read Music book (Vol. 1)

Essential Elements for Violin (Vol. 1)
For a list of tips on how to take care of the violin, click on the link below.
Rental Information
---
Need a place to rent a violin? Check out one of the three convenient locations in Birmingham. They offer rental programs that allow you to move up sizes as needed and/or rent towards the purchase of a new violin. Be sure to purchase a shoulder rest that will fit your violin as this will help maintain good posture. Each location also carries the Suzuki method books that will be needed to begin lessons!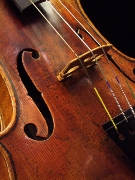 Accessories
---
Shoulder rests provide the comfort & support needed to play with correct posture.
Kun, Everest or Wolf shoulder rests are recommended & available at Amazon or www.sharmusic.com
Belvelin shoulder rests are an alternative shoulder rest made out of dense rubber shaped to support correct posture & is available at The Potter Violin Company.
GelRests provide comfort for the chin.
various colors are available
Other Student Resources

---
Click on the links below for other helpful resources and tips.
Listening Samples: The Hallelujah Chorus
For other Listening Samples, click here.